[adsense]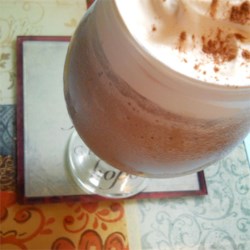 It's getting hot, you guys. Time to break out all those refreshing cold coffee drink recipes. Here's one of our favorites so far, and it only takes FOUR ingredients! Plus, this is super easy for a party refreshment.
Ingredients:
3 cups fresh brewed coffee, chilled

2 cups white sugar
3 pints half and half
2 tbs vanilla extract
Directions:
1. Brew coffee and chill in refrigerator until cold
2. Mix cream, coffee, sugar, and vanilla extract in container and freeze until solid. About 3 hours.
3. Remove from freezer and defrost for 1 hour. Break mixture apart with a fork, making a slush.
4. Transfer to bowl or pitcher for serving.
5. Enjoy! And, keep some whipped cream handy for guests. Perfect on top!